Zbornik radova Ekonomskog fakulteta Brčko, 2011.
Proceedings of Faculty of Economics Brcko, 2011.
Objavljen u novembru 2011. godine.
Published in November 2011
ISBN 987-99938-95-13-8
COBISS.RS-ID 2440216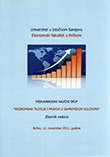 (NE)EFIKASNOST OSTVARENIH TRANZICIONIH PROCESA U BIH I NJIHOV UTICAJ NA EKONOMSKI RAZVOJ
Prof. dr Hamid Alibašić

ULOGA EKONOMISTA I EKONOMSKE TEORIJE U RJEŠAVANJU POJEDINIH EKONOSMKIH PROBLEMA U BIH
Prof. dr Hamid Alibašić

VALUTNI ODBOR - PRIPREMA EKONOMSKOG SLOMA
CURRENCY BOARD – PREPARATION OF ECONOMIC BREAKDOWN
Prof. dr Aleksa Milojević

ULOGA INFORMACIONO-KOMUNIKACIONE TEHNOLOGIJE U EKONOMSKOM RAZVOJU
THE ROLE OF INFORMATION AND COMMUNICATION TECHNOLOGY IN ECONOMIC DEVELOPMENT
Prof. dr Rade Stankić

EKONOMSKA POLITIKA ZA DOMAĆI EKONOMSKI OPORAVAK
Prof. dr Novo Plakalović

ABC PRISTUP PROBLEMU OPŠTIH TROŠKOVA KAO OSNOVA KVALITETNIJEG POSLOVNOG ODLUČIVANJA
ABC APPROACH TO OVERHEAD COSTS PROBLEM AS A BASIS FOR MORE QUALITY BUSINESS DECISION MAKING
Prof. dr Radmina Jablan Stefanović, mr Vladan Knežević

АНТИ-КРИЗНЕ МЕРЕ У ЈАВНИМ ПРЕДУЗЕЋИМА У ВРЕМЕ КРИЗЕ
ANTI-CRISIS MEASURES IN PUBLIC ENTERPRISES IN TIMES OF CRISIS
Мр Силвана Колева

IMPLEMENTATION OF THE SUSTAINABLE DEVELOPMENT AS A SIGNIFICANT PRECONDITION FOR APPROACHING EUROPEAN UNION
– THE CASE OF THE REPUBLIC OF MACEDONIA –
Prof. Pece Nedanovski, PhD

BIZNIS PLAN – DOKUMENT O DUGOROČNOJ EFEKTIVNOSTI PREDUZEĆA
BUSINESS PLAN – DOCUMENTS OF LONG-TERM EFFICIENCY OF COMPANY
Prof. dr Marin Gužalić

MAKROPRUDENCIJALNA REGULACIJA KAO ODGOVOR NA FINANSIJSKU KRIZU
MACRO-PRUDENTIAL REGULATION AS A RESPONSE TO FINANCIAL CRISIS
Mr Dražen Cvijanović

THE GLOBAL FINANCIAL CRISIS AND ITS EFFECTS ON THE FINANCIAL SYSTEM OF SERBIA
Mr Slobodanka Jovin, ma Dajana Vindžanović

АНАЛИЗА ПРИВРЕДНОГ РАСТА У БОСНИ И ХЕРЦЕГОВИНИ, РЕПУБЛИЦИ СРПСКОЈ И ЗЕМЉАМА У ОКРУЖЕЊУ ПРИМЈЕНОМ ХАРОД-ДОМАРОВОГ МОДЕЛА
ANALYSIS OF ECONOMIC GROWTH IN BOSNIA AND HERZEGOVINA, THE REPUBLIC OF SRPSKA AND THE SORROUNDING APPLYING THE HARRODDOMAR MODEL
Зоран Боровић

FINANSIJSKA KRIZA I NOVI IZAZOVI U BANKARSTVU
FINANCIAL CRISIS AND NEW CHALLENGES IN BANKING
Branka Topić-Pavković, mr Tajana Serdar

DETERMINANTE RAZVOJA INVESTICIONIH FONDOVA KAO FINANSIJSKIH INSTITUCIJA NA TRŢIŠTU KAPITALA U SRBIJI
Snežana Milošević, Dragana Ikonić, Nina Arsić

ODRŽIVE TEHNOLOGIJE U PREHRAMBENOJ INDUSTRIJI
SUSTAINABLE TECHNOLOGIES IN FOOD INDUSTRY
Prof. dr Radoslav Grujić

EKOLOŠKA POLITIKA KAO DETERMINIRAJUĆI FAKTOR ODRŽIVOG RAZVOJA
ENVIRONMENTAL POLICY AS A DETERMINING FACTOR OF SUSTAINABLE DEVELOPMENT
Prof. dr Đoko Slijepčević, prof. dr Hamid Alibašić

ФИСКАЛНА КООРДИНАЦИЈА У ЕВРОПСКОЈ УНИЈИ – ЛЕКЦИЈА ЗА БОСНУ И ХЕРЦЕГОВИНУ
Мр Бојана Васиљевић

POSEBNI POREZI NOVI IZVOR FINANCIRANJA ZDRAVSTVA BOSNE I HERCEGOVINE
SPECIAL TAXES NEW SOURCES OF FINANCING THE OF HEALTH BOSNIA AND HERZEGOVINA
Dr. sc. Slavko Vukić

IZBOR OPTIMALNIH STOPA PDV-A (POREZA NA DODATU VRIJEDNOST) U BOSNI I HERCEGOVINI
THE CHOICE OF OPTIMAL VAT RATE VALUE ADDED TAX) IN BOSNIA AND HERZEGOVINA
Mitra Đuričić

POSEBNA SHEMA PLAĆANJA DUŢNIKA U SISTEMU PDV-a U BIH I NJEN KNJIGOVODSTVENI ASPEKT
SPECIAL MODEL OF PAYING FOR VAT PAYERS IN BOSNIA AND HERZEGOVINA AND IT'S ACCOUNTANT ASPECT
Prof. dr Hamid Alibašić, Elvis Alibašić, dipl. oec.

VISOKO OBRAZOVANJE U BOSNI I HERCEGOVINI
HIGHER EDUCATION IN BOSNIA AND HERZEGOVINA
Prof. dr Miladin Jovičić, mr Ankica Jovičić

ANALIZA REZULTATA PRIJEMNIH ISPITA ZA UPIS NA EKONOMSKI FAKULTET U BRČKOM
ANALYSIS OF THE ENTRANCE EXAMINATION RESULTS FOR ADMISSION TO THE FACULTY OF ECONOMICS IN BRCKO
Prof. dr Stevan R. Stević

UPRAVLJANJE FINANSIJSKIM RIZICIMA U FUNKCIJI POVEĆANJA DOBITI PREDUZEĆA
FINANCIAL RISK MANAGEMENT IN THE FUNCTION OF COMPANIES INCREASE PROFITS
Mr Dragan Milovanović

FUTURES IN FUNCTION OF RISK MANAGEMENT AND FINANCIAL MARKET DEVELOPMENT
Ma Dajana Vindžanović, mr Slobodanka Jovin

MODEL KVALITETA U LOKALNOJ SAMOUPRAVI
MODEL FOR LOCAL SELF-GOVERNMENT QUALITY MANAGEMENT
Prof. dr Dušanka Ušćumlić, mr Cviko Jekić

ULOGA I ZNAČAJ KLASTERA U MODERNOJ EKONOMIJI
THE ROLE AND SIGNIFICANCE OF CLUSTERS IN THE MODERN ECONOMY
Prof. dr Momčilo Poljić

DOPRINOS MENADŽMENT ZA ODNOSE SA JAVNOŠĆU U KREIRANJU STRATEŠKIH ODLUKA
MANAGEMENT CONTRIBUTION TO THE PUBLIC RELATIONS IN CREATING OF STRATEGIC DECISIONS
Doc. dr Dragan Đuranović, Adrijana Nikić

MODEL PONAŠANJA POTROŠAČA U ELEKTRONSKOM POSLOVANJU
A CONSUMER BEHAVIOR IN THE ELECTRONIC BUSINESS ENVIRONMENT
Prof. dr Ljubomir Trifunović, doc. dr Lazar Radovanović, mr Slavko Matanović

NOVA EKONOMIJA, INTERNET I INTELEKTUALNA SVOJINA
THE NEW ECONOMY, INTERNET AND INTELLECTUAL PROPERTY
Nemanja Šarenac, mr Mladen Rebić

ZNAČAJ KORPORATIVNIH KOMUNIKACIJA U STVARANJU VREDNOSTI KORPORACIJE
IMPORTANCE OF CORPORATE COMMUNICATIONS IN CREATING CORPORATE VALUE
Zvjezdana Gavrilović, dipl. oec.

ЕЛЕКТРОНСКА ТРЖИШТА РЕОСИГУРАЊА – НОВИ ОБЛИК ПОСЛОВАЊА У РЕОСИГУРАВАЈУЋОЈ ДЈЕЛАТНОСТИ
ELECTRONIC REINSURANCE MARKETS - NEW FORM OF TRADING IN REINSURANCE BRANCHE
Мр Василијана Мирковић

OSNOVNE SMJERNICE ZA EFIKASNO OBLIKOVANJE PROCESA TARGET COSTING-A U POSLOVNOJ PRAKSI PREDUZEĆA<бр> BASIC GUIDELINES FOR EFFECTIVE TARGET COSTING DESIGN PROCESS IN OFFICE PRACTICES OF COMPANIES
Mr Renata Lučić

УПРАВЉАЧКО-ИНФОРМАЦИОНИ ДОПРИНОСИ LEAN РАЧУНОВОДСТВА У САВРЕМЕНОМ ПОСЛОВНОМ ОКРУЖЕЊУ
MANAGERIAL-INFORMATION ROLE OF LEAN ACCOUNTING IN MODERN BUSINESS
Мр Љиљана Танасић

ЕЛЕКТРОНСКО УЧЕЊЕ У МАЛИМ И СРЕДЊИМ ПРЕДУЗЕЋИМА
E-LEARNING IN SMALL AND MEDIUM-SIZED ORGANISATIONS
Мр Миодраг Перановић

OČUVANJE DEPOZITA U FUNKCIJI POSTIZANJA OPTIMUMA LIKVIDNOSTI KAO OSNOVNE PRETPOSTAVKE ZA ODRŽIVOST BANAKA NA FINANSIJSKOM TRŽIŠTU SRBIJE
Dragana Ikonić, Snežana Milošević
zbornik.efb@gmail.com