Zbornik radova Ekonomskog fakulteta Brčko, 2004.
Proceedings of Faculty of Economics Brcko, 2004.
Objavljen 2004. godine.
Published in 2004
ISBN 99938-649-8-6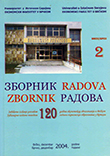 UVODNO IZLAGANJE
Prof. dr Milan Tomić, dekan

NASTAVNI PLANOVI I PROGRAMI NA EKONOMSKOM FAKULTETU I UKLJUČIVANJE U BOLONJSKE PROCESE
Prof. dr Marin Gužalić

PRIVATIZACIONI PROCESI U TRANZICIONIM ZEMLJAMA S POSEBNIM OSVRTOM NA PRIMJENU RAZLIČITIH MODELA PRIVATIZACIJE
"MAKE PRIVATELY" PROCESS IN "TRANSIT" COUNTRIES WITH A SPECIAL VIEW ON REALIZATION OF DIFFERENT "MAKE PRIVATELY" MODELS
Prof. dr Hamid Alibašić

PRIVATIZACIJA KAO SASTAVNI DIO TRANZICIJE
PRIVATIZATION AS A COMPONENT OF TRANSITION
Prof. dr Hamid Alibašić, Mato Brašnić, dipl.oec.

MODELI TRANZICIJE – DA LI BRZA ILI SPORA TRANZICIJA
MODELS OF TRANSITION - TO DO TRANSITION FAST OR SLOW
Prof. dr Mladen Bodiroža

PREDUZETNIŠTVO I LOKALNA SAMOUPRAVA
Prof. dr Marin Gužalić

PARADIGMA "TRANZICIJSKOG KAPITALIZMA" I BOSANSKOHERCEGOVAČKI IZLAZ IZ TRANZICIJSKE KRIZE
PARADIGM OF ˝TRANSITION CAPITALISM˝ AND BOSNIAN WAY OUT FROM THE TRANSITION CRISES
Prof. dr Kadrija Hodžić

KONCESIJA U FUNKCIJI EKONOMSKOG RAZVOJA BOSNE I HERCEGOVINE
CONSESSION IN THE FUNCTION OF ECONOMICAL DEVELOPEMENT OF BOSNIA AND HERZEGOVINA
Doc. dr. Hajro Kofrc

ORGANIZACIJA KOJA UČI - NOVI TREND U MENADŽMENTU
Prof. dr Gordana Kokeza, prof. dr Božidar Stavrić

ZAŠTITA POTROŠAČA U PROCESU TRANZICIJE
CONSUMER PROTECTION IN PROCESS OF THE TRANSITION
Doc. dr. Rifat Klopić

ПРOБЛEМИ ПРOВOЂEЊA ТРAНЗИЦИJE У СВJEТЛУ ПРИВAТИЗAЦИJE
Дoц. др Пajo Пaнић

EKONOMSKI EFEKTI TRANZICIONIH PROCESA U POLJOPRIVREDI ZEMALJA CENTRALNE I ISTOČNE EVROPE
ECONOMIC EFECTS OF TRAZITIONS PROCESSES IN AGRICULTURE OF EAST AND CENTRAL EUROPEN CONTRIES
Mr Teodor M. Petrović

SISTEM ZARADA U FUNKCIJI RAZVOJA ZEMALJA U TRANZICIJI
SALARY SYSTEM IN FUNCTION OF DEVELOPMENT OF THE COUNTRIES IN TRANSITION
Doc. dr Momčilo Poljić

BUDŽETIRANJE U TRŽIŠNOJ EKONOMIJI I PRAKSA BiH PREDUZEĆA
BUDGETING IN MARKET ECONOMY AND PRACTICE B&H ENTERPRISES
Dr. sc. Sado Puškarević

ULOGA GLOBALNIH INFORMACIONIH SISTEMA I INTERNETA U POSLOVNOM ODLUČIVANJU
THE ROLE OF GLOBAL INFORMATION SYSTEMS AND INTERNET IN DECISION MAKING PROCESS
Mr Lazar K. Radovanović

ELEKTRONSKA RAZMENA FINANSIJSKIH PORUKA
THE ELECTRONIC EXCHANGE OF FINANCIAL MESSAGES
Prof. dr Rade Stankić

LOHN POSLOVI – TRANZICIJSKA ILI DUGOROČNA STRATEGIJA POSLOVNE SARADNJE S INOSTRANSTVOM
LOHN OPERATIONS – TRANSITIONAL OR LONG TERM STRATEGY OF INTERNATIONAL BUSINESS COOPERATION
Prof. dr sc. Mustafa Sinanagić

ПЛАНСКА УЛОГА ФИНАНСИЈСКИХ ИЗВЕШТАЈА
THE FOLE OF FINANCIAL REPORTS IN PLANNING
Проф. др Никола Стевановић

ПРИМЈЕНА ТЕОРИЈЕ ОДГОВОРА НА ПИТАЊА У ЕКСТЕРНОМ ОЦЈЕЊИВАЊУ УЧЕНИЧКИХ ПОСТИГНУЋА
Прoф. др Стеван Р. Стевић, Душан Сарајлић, дипл. инж.

УТИЦАЈ МАРКЕТИНГА НА ТРАНЗИЦИЈУ БАНКАРСТВА У БОСНИ И ХЕРЦЕГОВИНИ
IMPACT OF MARKETING ON BANKING TRANSITION IN BOSNIA AND HERZEGOVINA
Доц. др Љубомир Трифуновић
zbornik.efb@gmail.com